On the awkwardness of spatial development theories against the crisis
---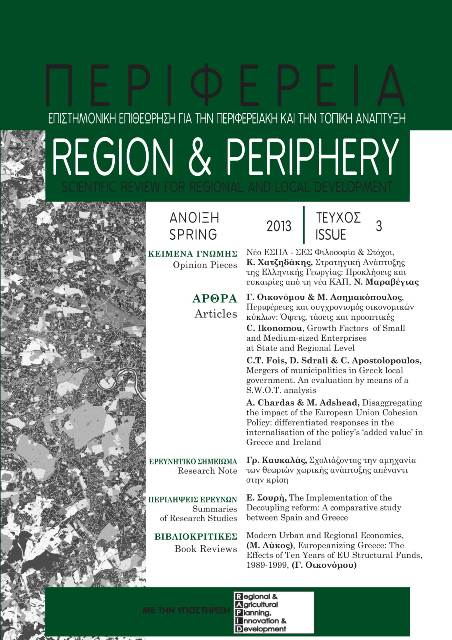 Published: May 1, 2013
Keywords:
spatial development regional planning spatial integration regional resilience
Abstract
The presentation of the main argument starts with a synopsis of the successive efforts, sucesses and failures, of spatial development planning, especially after the energy crisis of the 1970s. The second step focuses upon the local/global relationships as a question of multi-level spatial integration. This symbiotic relationship intensifi es with the pace of globalisation and transcends national economies and even international groupings. Finally, instead of conclusion there is a comment on the resilience of regions with reference to the recent economioc crisis.
Article Details
How to Cite

Καυκαλάς Γ. (2013). On the awkwardness of spatial development theories against the crisis. Region & Periphery, (3), 121–133. https://doi.org/10.12681/rp.18902
Authors who publish with this journal agree to the following terms:
· Authors retain copyright and grant the journal right of first publication with the work simultaneously licensed under a Creative Commons Attribution Non-Commercial License that allows others to share the work with an acknowledgement of the work's authorship and initial publication in this journal.
· Authors are able to enter into separate, additional contractual arrangements for the non-exclusive distribution of the journal's published version of the work (e.g. post it to an institutional repository or publish it in a book), with an acknowledgement of its initial publication in this journal.
· Authors are permitted and encouraged to post their work online (preferably in institutional repositories or on their website) prior to and during the submission process, as it can lead to productive exchanges, as well as earlier and greater citation of published work.
Downloads
Download data is not yet available.
References
Bristow G. (2010), "Resilient regions: re-'place'ing regional competitiveness", Cambridge Journal of Regions, Economy and Society, 3: 153-67.
ESPON (2012), "ECR2 - Economic Crisis: Resilience of Regions", Inception Report, Version 17/08/2012,
http://www.espon.eu/export/sites/default/
Documents/ Projects/AppliedResearh/ ECR2/ECR2_inception_report.pdf).
Friedmann J. (2011), Insurgencies: Essays in Planning Theory, London and New York: Routledge
Jessop B. (2013), "Recovered imaginaries, imagined recoveries: a cultural political economy of crisis construals and crisis management in the North Atlantic Financial Crisis", στο
M. Benner (επ.) Beyond the Global Economic Crisis: Economics and Politics for a Post-Crisis Settlement, Cheltenham: Edward Elgar
Lindblom Charles E. (1959), The Science of "Muddling Through." Public Administration Review 19:79-88
Lindblom Charles E. (1979), Still Muddling, Not Yet Through. Public Administration Review 39 (6): 517–526
Simmie J. και Martin R. (2010), "The economic resilience of regions: towards an evolutionary approach", Cambridge Journal of Regions, Economy and Society, 3: 27-43