Long-term planning and development for urban and regional inclusion, safety, resilience, and sustainability. Insights from Singapore
---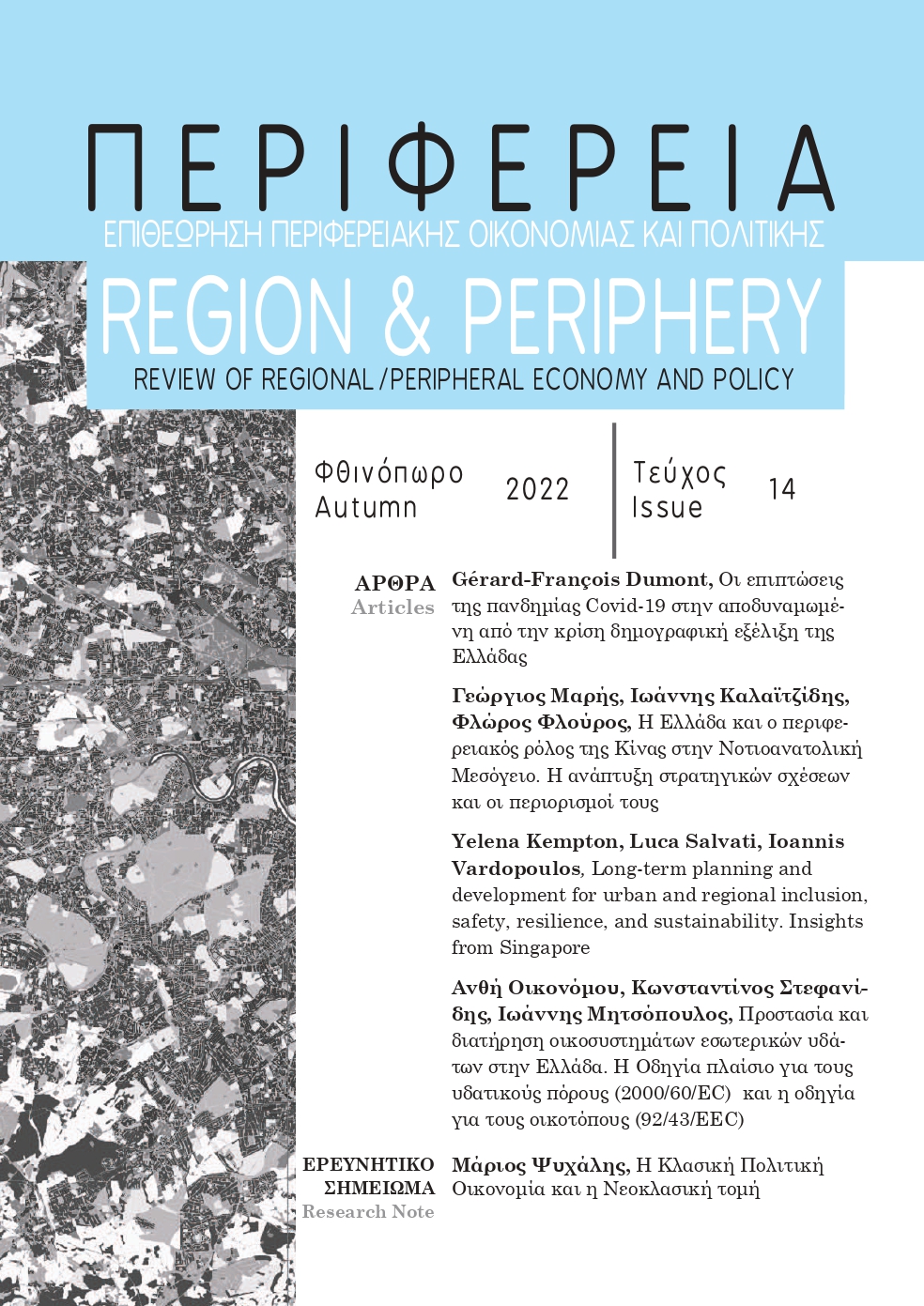 Abstract
Today, Singapore is a thriving city-state representing a growth of almost eighty percent since 1990. A feasible combination of state authorities' planning, policy implementation, public-private partnerships, and international assistance has led to the city-state's development and sustainability. Urban economics fl uctuations, demographic shifts, environment degradation reaching to irreversible points, among others, are expected to challenge the future of cities the next 50 years. Thus, it is considered essential to plan ahead for sustainability and resource management. This study delves into the broad policies and practices that have contributed to Singapore's success story while also getting into recent years' specifi cs and modern technologies of sustainable planning and development. Adopting a case study of Singapore long-term, or constant, re-development, fi ndings contribute to the enhancement of the existing body of knowledge in the fi eld of sustainable planning and can benefi t those interested in understanding from a policy and operational standpoint. The Singapore example illustrates that technocratic competence in design, planning, and implementation is a fundamental requirement for the long-term world-wide sustainability scheme expressed by the UN Sustainable Development Goals.
Article Details
How to Cite

Kempton, Y., Salvati, L., & Vardopoulos, I. (2023). Long-term planning and development for urban and regional inclusion, safety, resilience, and sustainability. Insights from Singapore. Region & Periphery, 14(14), 59–79. https://doi.org/10.12681/rp.32607
This work is licensed under a Creative Commons Attribution-NonCommercial 4.0 International License.
Authors who publish with this journal agree to the following terms:
· Authors retain copyright and grant the journal right of first publication with the work simultaneously licensed under a Creative Commons Attribution Non-Commercial License that allows others to share the work with an acknowledgement of the work's authorship and initial publication in this journal.
· Authors are able to enter into separate, additional contractual arrangements for the non-exclusive distribution of the journal's published version of the work (e.g. post it to an institutional repository or publish it in a book), with an acknowledgement of its initial publication in this journal.
· Authors are permitted and encouraged to post their work online (preferably in institutional repositories or on their website) prior to and during the submission process, as it can lead to productive exchanges, as well as earlier and greater citation of published work.
Downloads
Download data is not yet available.