Primary students' argumentation skills on evaporation: A teaching intervention
---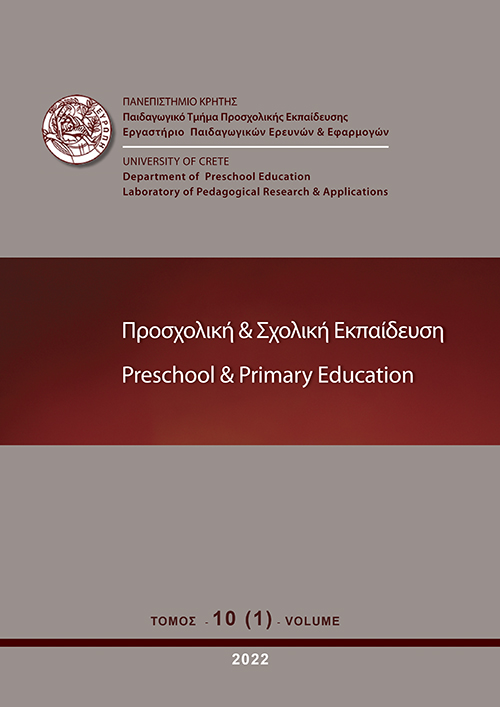 Δημοσιευμένα: Apr 8, 2022
Περίληψη
This paper reports the findings of a study exploring the possibilities of improving students' argumentation skills concerning evaporation process and factors affecting evaporation by implementing two teaching schemes, with and without the use of particle theory. The participants (ages 10/11, n = 77) were students of four fifth-grade classes of two Greek regular public primary schools. The research data were collected through an open-ended written test (pre- and post-intervention) and a semi-structured interview (post-intervention). Results revealed that the improvement of students' argumentation skills regarding the evaporation process and the factors affecting evaporation is feasible through an appropriate teaching intervention. This concerns mainly the components of claim and evidence, whereas the use of the particle theory seems to contribute further to this improvement, as well as to the improvement of the reasoning component. Implications for science education are also discussed.
Λεπτομέρειες άρθρου
Πώς να δημιουργήσετε Αναφορές

Angeloudi, A., & Papageorgiou, G. (2022). Primary students' argumentation skills on evaporation: A teaching intervention. Preschool and Primary Education, 10(1), 1–24. https://doi.org/10.12681/ppej.27434
Αυτή η εργασία είναι αδειοδοτημένη υπό το CC Αναφορά Δημιουργού – Μη Εμπορική Χρήση – Παρόμοια Διανομή 4.0.
Οι συγγραφείς των άρθρων που δημοσιεύονται στο ΠΡΟΣΧΟΛΙΚΗ & ΣΧΟΛΙΚΗ ΕΚΠΑΙΔΕΥΣΗ διατηρούν τα δικαιώματα πνευματικής ιδιοκτησίας επί των άρθρων τους, δίνοντας στο περιοδικό το δικαίωμα της πρώτης δημοσίευσης. Άρθρα που δημοσιεύονται στο ΠΡΟΣΧΟΛΙΚΗ & ΣΧΟΛΙΚΗ ΕΚΠΑΙΔΕΥΣΗ διατίθενται με άδεια Creative Commons 3.0 και σύμφωνα με την άδεια μπορούν να χρησιμοποιούνται ελεύθερα, με αναφορά στο/στη συγγραφέα και στην πρώτη δημοσίευση για μη κερδοσκοπικούς σκοπούς και με δικαίωμα τροποποίησης μόνον με παρόμοια διανομή (αν αναμείξετε, τροποποιήσετε, ή δημιουργήσετε πάνω στο υλικό, πρέπει να διανείμετε τις δικές σας συνεισφορές υπό την ίδια άδεια όπως και το πρωτότυπο). To Εργαστήριο Παιδαγωγικών Ερευνών και Εφαρμογών του Παιδαγωγικού Τμήματος Προσχολικής Εκπαίδευσης του Πανεπιστημίου Κρήτης και το Εθνικό Κέντρο Τεκμηρίωσης διατηρούν το δικαίωμα να δημοσιεύουν, να αναπαραγάγουν, να παρουσιάζουν στο κοινό, να διανέμουν και χρησιμοποιούν άρθρα που δημοσιεύονται στο ΠΡΟΣΧΟΛΙΚΗ & ΣΧΟΛΙΚΗ ΕΚΠΑΙΔΕΥΣΗ σε οποιοδήποτε μέσο και μορφή είτε μεμονωμένα είτε ως μέρη συλλογικών  έργων, για όλο το χρόνο διάρκειας προστασίας της πνευματικής ιδιοκτησίας και για όλες τις χώρες του κόσμου. Αυτό περιλαμβάνει ενδεικτικά και όχι αποκλειστικά, το δικαίωμα δημοσίευσης των άρθρων σε τεύχη του περιοδικού ΠΡΟΣΧΟΛΙΚΗ & ΣΧΟΛΙΚΗ ΕΚΠΑΙΔΕΥΣΗ, αναπαραγωγής και διανομής μεμονωμένων αντιγράφων των άρθρων, αναπαραγωγής ολόκληρων των άρθρων σε άλλη έκδοση του Εργαστηρίου Παιδαγωγικών Ερευνών και Εφαρμογών του Παιδαγωγικού Τμήματος Προσχολικής Εκπαίδευσης του Πανεπιστημίου Κρήτης και του Εθνικού Κέντρου Τεκμηρίωσης και αναπαραγωγής και διανομής των άρθρων ή περίληψης αυτών με χρήση πληροφορικού συστήματος αποθετηρίου.
Λήψεις
Τα δεδομένα λήψης δεν είναι ακόμη διαθέσιμα.