emoval of malachite green dye from aqueous solutions by diasporic Greek raw bauxite
---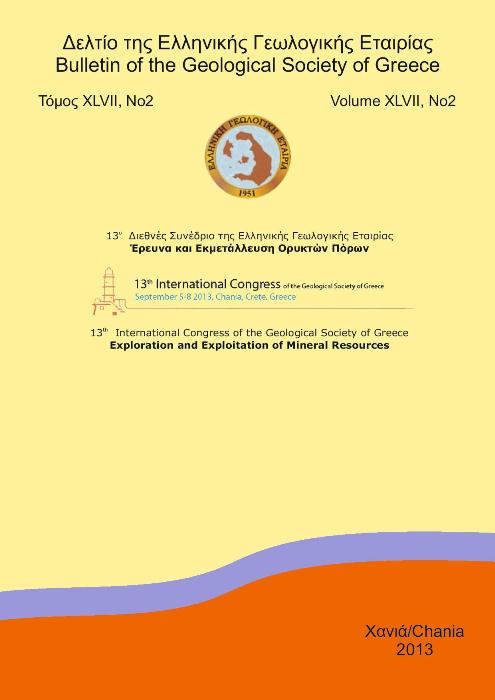 Published: Jan 24, 2013
Keywords:
Wastewater treatment textile wastewater adsorption industrial minerals and rocks
Abstract
Raw bauxite from Klisoura mine (Prefecture of Fokida, Greece) containing 72 wt.% diaspore, 16 wt.% hematite, 6 wt.% quartz, 4 wt.% anatase and 2 wt.% calcite, has been used for the removal of malachite green dye from aqueous solutions. The batch type experiments were conducted with 10 ml of solution, at pH = pHZPC = 6.7 and contact time 1 h. The initial concentration of malachite green dye was 10 mg/l, the bauxite quantity was 0.02 g, 0.04 g, 0.06 g, 0.1 g and 0.2 g. The highest adsorption capacity achieved was 4.5 mg/g (90% removal) using 0.02 g bauxite. The removal capacity of raw bauxite is comparable to other non-conventional adsorbents, such as neem sawdust, sugar cane dust and cane root carbon.
Article Details
How to Cite

Georgiadis, I., Papadopoulos, A., Filippidis, A., Godelitsas, A., Tsirambides, A., & Vogiatzis, D. (2013). emoval of malachite green dye from aqueous solutions by diasporic Greek raw bauxite. Bulletin of the Geological Society of Greece, 47(2), 927–933. https://doi.org/10.12681/bgsg.11132
Section
Environmental Geology
Authors who publish with this journal agree to the following terms:
Authors retain copyright and grant the journal right of first publication with the work simultaneously licensed under a Creative Commons Attribution Non-Commercial License that allows others to share the work with an acknowledgement of the work's authorship and initial publication in this journal.
Authors are able to enter into separate, additional contractual arrangements for the non-exclusive distribution of the journal's published version of the work (e.g. post it to an institutional repository or publish it in a book), with an acknowledgement of its initial publication in this journal. Authors are permitted and encouraged to post their work online (preferably in institutional repositories or on their website) prior to and during the submission process, as it can lead to productive exchanges, as well as earlier and greater citation of published work.
Downloads
Download data is not yet available.