In field evaluation of injectable appramycin for the control of naturally occuring colibacillosis in young calves
---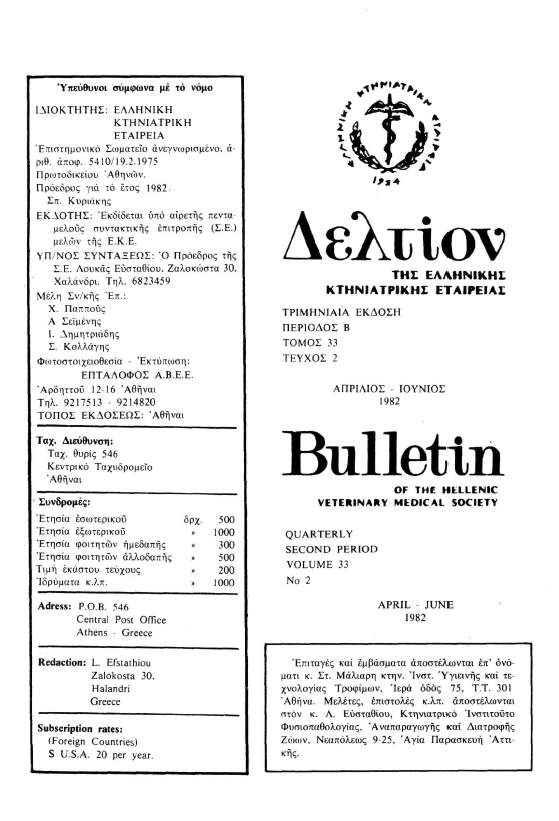 Abstract
The efficacy of apramycin at 20mg/kg of body weight IM for 5 days was evaluated for the control of naturally oecuring colibacillosis in young calves (n,=20). Positive control calves (n ,=20) were treated with trimethoprim sulphadiazine and when symptoms persisted or recurred with Oxytetracycline and/or chloramphenicol IM at dosages and for periods recommented by the manufacturers. Scored clinical observations and diarrhoea were generally comparable between the two treatment groups. Due to persistence or recurence of diarrhoea, positive control calves required a total of 160 IM injections as compared to 100 IM injections for apramycin group. The average daily gain of the apramycin calves was greater, although not significant (P 0.05), for the periods 0-7 days and 7-14 days by 123.33% and 23.51% respectively. The overall improvement (0-14 days) was statistically significant (Ρ 0.05) amounting to 44.6% over the controls. Mean serum immunoglobulin levels did not differ significantly (P 0.05) between the two treatment groups. From fecal swabs taken from all calves on trial days 0 and 5, E. colt was isolated and 9 strains were recognised enteropathogenic belonging to 4 serotypes.
Article Details
How to Cite

ΚΥΡΙΑΚΗΣ Σ., ΣΑΡΡΗΣ Κ., ΑΝΔΡΕΩΤΗΣ Ι., & ΤΣΑΛΤΑΣ Κ. (2019). In field evaluation of injectable appramycin for the control of naturally occuring colibacillosis in young calves. Journal of the Hellenic Veterinary Medical Society, 33(2), 152–158. https://doi.org/10.12681/jhvms.21537
Authors who publish with this journal agree to the following terms:
· Authors retain copyright and grant the journal right of first publication with the work simultaneously licensed under a Creative Commons Attribution Non-Commercial License that allows others to share the work with an acknowledgement of the work's authorship and initial publication in this journal.
· Authors are able to enter into separate, additional contractual arrangements for the non-exclusive distribution of the journal's published version of the work (e.g. post it to an institutional repository or publish it in a book), with an acknowledgement of its initial publication in this journal.
· Authors are permitted and encouraged to post their work online (preferably in institutional repositories or on their website) prior to and during the submission process, as it can lead to productive exchanges, as well as earlier and greater citation of published work.
Downloads
Download data is not yet available.
References
Blood, D.C., Henderson, J.A. and Radostits, O.M. (ed) (1980): Veterinary Medicine. Bailliiere Tindall, London pp 459-476.
McEwan. A.D., Fisher, F.W., Selman, I.E. and Penhaie, W.J., (1970): A turbidity test for the estimation of immune globulin levels in neonatal calf serum. Clinica chimica Acta, 27:155-163.
Pankhurst, J.W., Diaz, M., Zeri, A and Launay, M (1975): Treatment of disease in the young calf with apramycin. Proceedings of the XXth World Veterinary Congress. Thessaloniki.
Ryden, R. and Moore. B.J. (1977): In vitro activity of apramycin, a new aminocyclitol antibiotic. Journal of Antimicrobial Chemotherapy, 3:609-613.
Sojka, W.J., (1973): Enteropathogenic Escherichia coli in man and farm animals. Canadian Institute of Food Science and Technology, 6:52.
Stoforos, E., Kyriakis, S. Donos. Α., Papaharisis. G., Andreotis. J., and Tsaltas. C, (1978): Study upon the efficacy of apramycin in the treatment
of colibacillosis in young calves. Bulletin of the Hellenic Veterinary Medical Society, 29, 4:216-234.
Wick, W.E. and Welles. J.S. (1968): Nebramycin, a new broad spectrum antibiotic complex. IV: In vitro and in vivo laboratory evaluation. American Society for Microbiology, pp 341-348