Study upon the efficacy of apramycin in the treatment of colibacillosis in young calves
---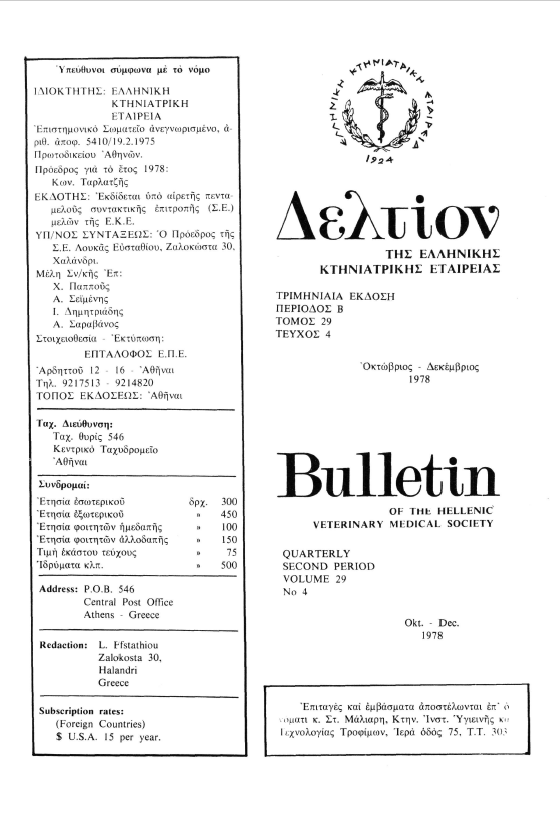 Abstract
Apramycin, a new aminocy clitol antibiotic produced by a strain o f S t r e p t o m y c e s te n e b r a r i u s has been evaluated as a treatment of naturally occuring colibacillosis in young calves. Results are reported from 3 field trials, involving 95 animals, in Greece. In 2 of those trials, apramycin was administered orally at a dose rate of 20 and 40 mg/kg bodyweight and at 20 mg/kg b.w. by injection in the 3rd trial (Table I).
Article Details
How to Cite

ΣΤΟΦΟΡΟΣ E., ΚΥΡΙΑΚΗΣ Σ., ΔΟΝΟΣ Α., ΠΑΠΑΧΑΡΙΣΗΣ Γ., ΑΝΔΡΕΩΤΗ Γ., & ΤΣΑΛΤΑΣ Κ. (2019). Study upon the efficacy of apramycin in the treatment of colibacillosis in young calves. Journal of the Hellenic Veterinary Medical Society, 29(4), 216–234. https://doi.org/10.12681/jhvms.21360
Authors who publish with this journal agree to the following terms:
· Authors retain copyright and grant the journal right of first publication with the work simultaneously licensed under a Creative Commons Attribution Non-Commercial License that allows others to share the work with an acknowledgement of the work's authorship and initial publication in this journal.
· Authors are able to enter into separate, additional contractual arrangements for the non-exclusive distribution of the journal's published version of the work (e.g. post it to an institutional repository or publish it in a book), with an acknowledgement of its initial publication in this journal.
· Authors are permitted and encouraged to post their work online (preferably in institutional repositories or on their website) prior to and during the submission process, as it can lead to productive exchanges, as well as earlier and greater citation of published work.
Downloads
Download data is not yet available.
References
B0rki, F. (1978). Ίογενή Νοσήματα τών Βοοειδών - Μέτρα Προλήψεως στους Παχυνομένους Μόσχους. Διάλεξις δοθείσα είς τήν Κτηνιατρικήν Σχολή του Α. Π. Θεσ/νικης.
Buxton, Α. and Fraser, G. (1977). Animal Microbiology, 1st Edition, Vol. I. pp 93-102 Oxford: Blackwell Scientific Publications.
Fisher, E. W. and de la Fuente, G. H (1971). Antibiotics and Calf Diarrhoea - the Effect of Serum Immune Globulin Concentations. Veterinary Record 89: 579 - 582
Gorham, P. E., Speer, V.C. and Ose, E.E. (1976). Apramycin, a new aminocyclitol antibiotic: 3. Treatment of colibacillosis in weaned pigs. Proceedings, I.P.V.S. Congress, Iowa, U.S.A.
Me Ewan, A.D., Fisher, E. W., Selman, I. E. and Penhaie, W.J., (1970). A turbidity test for the estimation of immune globulin levels in neonatal calf serum. Clinica Chimica Acta, 27: 155-163.
Ο' Connor, S., Lam, L.K., Jones, N.D. and Chaney, M.O., (1973). Apramycin, a unique aminocyclitol antibiotic. Paper presented at 165th A.C.S. National Meeting, Dallas Texas, U.S.A.
Παπαδόπουλος, Ο., (1972). Νόσοι έξ Έσχεριχών είς τα ζώα. Πρακτικά 5ου Έθνικοΰ Συνεδρίου Μικροβιολογίας, 'Αθήναι.
Pankhurst, J. W. (1976). Trials with a new Gram-negative antibiotic for enteric diseases in calves. Paper presented at the 2nd European Congress /British Vet. Ass.
Pankhurst, J.W., Diaz, M., Zeri, A. and Launay, M. (1975). Treatment of disease in the young calf with apramycin. Proceedings of the XXth World Veterinary Congress, Thessaloniki.
Ryden, R. and Moore, BJ. (1977). In vitro activity of apramycin, a new aminocyclitol antibiotic. Journal of Antimicrobial Chemotherapy, 3: 609-613.
Στοφόρος Ε., Κυριακής Σ., Άνδρεώτης Ι., Τσάλτας Κ., Σίμος Ε. Και Στοϋτσίου Κ., (1978). Μελέτη έπί της δραστηριότητος της δια του ποσίμου ύδατος χορηγούμενης άπραμυκίνης είς άπογαλακτισθέντα χοιρίδια πάσχοντα έκ κολοβακτηριδιάσεως. Δελτίον Ελληνικής Κτηνιατρικής Εταιρείας, Τομ. 29, Τευχ. 2.
Stoforos Ε., Kyriakis S., Antreotis J., Tsaltas C, Donos A. and Papaharisis G., (1978). Apramycin injection for the treatment of neonatal colibacillosis in piglets. Proceedings, 5th World I.P.V.S. Congress, Zagreb, Yugoslavia.
Wick, W.E. and Welles, J. S., (1968). Nebramycin, a new broad spectrum antibiotic complex. IV: In vitro and in vitro labaratory evaluation. Antimicrobial Agents and Chemotherapy - 1967. American Society for Microbiology, Bethesda (1968) pp. 341-8.