The intergenerational transmission of self-esteem in adolescence: gender-birth order-specific pathways and parenting as a mediator
---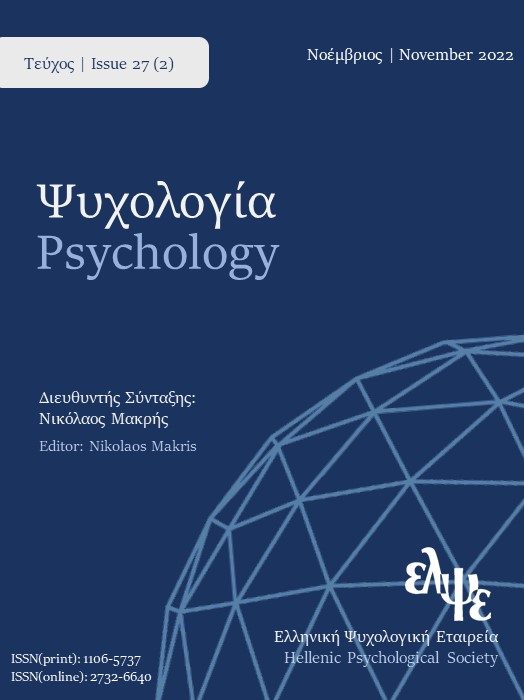 Published: Νοε 18, 2022
Keywords:
Intergenerational transmission self-esteem adolescence parenting gender birth order
Abstract
There is considerable evidence on the enduring impact on adolescent's self-esteem by parental behavior; however, the Intergenerational Transmission of self-esteem is still an open field of research. This paper aims to investigate the Intergenerational Transmission of self-esteem between mothers and their adolescent offspring with the possible moderating role of adolescent's gender and birth order as well as the mediating role of mother's report on her parenting behavior and the adolescent's perceived parenting by their mother. Two hundred and one dyads of mothers and their 14-year-old adolescent offspring participated. All participants filled-in via e-forms the "Rosenberg Self-Esteem Scale", the "Parental Behavior Questionnaire" and the "Connectedness Scale". In respect to self-esteem, the results indicated age, gender and birth order differences as well as a significant interaction effect between these variables. The hypothesis of Intergenerational Transmission, with mother's self-esteem impacting significantly on the self-esteem of their offspring was confirmed. A gender specific and a gender-birth order specific Intergenerational Transmission mechanism was found, as mothers seemed to influence their daughter's self-esteem (especially the first-born) in a greater degree. Furthermore, perceived parenting by adolescent's report (and not by mother's report) played a mediating role, explaining partly the Intergenerational Transmission of self-esteem.
Article Details
How to Cite

Mastellou, E.-S., & Tantaros, S. (2022). The intergenerational transmission of self-esteem in adolescence: gender-birth order-specific pathways and parenting as a mediator. Psychology: The Journal of the Hellenic Psychological Society, 27(2), 59–79. https://doi.org/10.12681/psy_hps.31758
This work is licensed under a Creative Commons Attribution-ShareAlike 4.0 International License.
The journal PSYCHOLOGY adopts a Platinum open-access policy. Submission, processing or publication costs are waived by the Hellenic Psychological Society. Papers published in the journal PSYCHOLOGY are licensed under a 'Creative Commons Attribution-ShareAlike 4.0 International' licence. The authors reserve the copyright of their work and grant the journal the right of its first publication. Third-party licensees are allowed to use the published paper immediately after publication as they wish, provided they retain the defined by the license copyright formalities, regarding the reference to its author(s) and its initial publication in the journal PSYCHOLOGY. Moreover, any adjusted work should be shared under the same reuse rights, so with the same CC license.
Downloads
Download data is not yet available.