New aspects on canine spirocercosis
---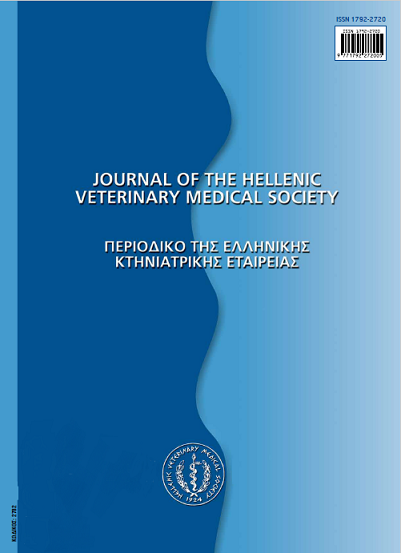 Published: Dec 19, 2017
Keywords:
Avermectins dog Spirocerca lupi symptomatic spirocercosis
Abstract
Spirocerca lupi is a nematode parasite of carnivores affecting mainly the dog. Although S. lupi infection is often asymptomatic, esophageal granulomas and/or sarcomas, aortic aneurysms, thoracic discospondylitis or spondylosis deformans, hypertrophic osteopathy and salivary gland necrosis may be detected in various combinations upon the necropsy of dogs, originating from the endemic areas. When spirocercosis turns symptomatic, regurgitation, vomiting, odynophagia, hypersalivation, progressive loss of body weight, dyspnea and episodic melena are the most common clinical signs noticed. Diagnosis will be confirmed by fecal examination (egg detection), using flotation or sedimentation techniques, thoracic radiography (posterior mediestinal mass, vertebral lesions) and especially esophagoscopy, which allows the direct visualization of S. lupi nodules either granulomatous or neoplastic. Avermectins, such as doramectin and ivermectin, have been emerged as promising medications in the treatment and possibly in the prevention of canine spirocercosis. Their use, in both the spontaneous and experimental disease, has resulted in the remission of esophageal dysphagia, complete or partial regression of esophageal parasitic granulomas and cessation of egg shedding.
Article Details
How to Cite

MYLONAKIS (Μ.Ε. ΜΥΛΩΝΑΚΗΣ) M. E., KOUTINAS (Α.Φ. ΚΟΥΤΙΝΑΣ) A. F., & RALLIS (Τ. ΡΑΛΛΗΣ) T. (2017). New aspects on canine spirocercosis. Journal of the Hellenic Veterinary Medical Society, 54(4), 347–350. https://doi.org/10.12681/jhvms.15344
Authors who publish with this journal agree to the following terms:
· Authors retain copyright and grant the journal right of first publication with the work simultaneously licensed under a Creative Commons Attribution Non-Commercial License that allows others to share the work with an acknowledgement of the work's authorship and initial publication in this journal.
· Authors are able to enter into separate, additional contractual arrangements for the non-exclusive distribution of the journal's published version of the work (e.g. post it to an institutional repository or publish it in a book), with an acknowledgement of its initial publication in this journal.
· Authors are permitted and encouraged to post their work online (preferably in institutional repositories or on their website) prior to and during the submission process, as it can lead to productive exchanges, as well as earlier and greater citation of published work.
Downloads
Download data is not yet available.
References
Bailey W S (1972) Spirocerca lupi: a continuing inquiry. J Parasitol, 58: 3-22.
Berry W L (2000) Spirocerca lupi esophageal grnulomas in 7 dogs: Resolution after treatment with doramectin. J Vet Intern Med, 147: 609-612.
Chandrasekharon Κ Ρ, Sastry G A, Menon Μ Ν (1958) Canine spirocercosis with special reference to the incidence and lesions. Brit Vet J, 114: 388-395.
Chhabra R C, Singh Κ S (1972) On Spirocerca lupi infection in some paratenic hosts infected experimentally. Ind J Anim Sci, 42: 297-304.
Chhabra R C, Singh Κ S (1973) A study on the life cycle of Spirocerca lupi: intermediate hosts and their biology. Ind J Anim Sci, 43: 49-54.
Dvir E, Kirberger R M, Malleczek D (2001) Radiographic and computed tomographic and clinical presentation of spirocercosis in the dog. Vet. Radiol Ultrasound, 42:119-129.
Evans L Β (1983) Clinical diagnosis of Spirocerca lupi infestation in dogs J S Afr Vet Assoc, 54:189-191.
Fox S M, Burns J, Hawkins J (1988) Spirocercosis in dogs. Comp Cont Educ Pract Vet, 10: 807-822.
Guilford W G, Strombeck D R (1996) Diseases of swallowing. In: Strombeck, s Small Animal Gastroenterology, 3rd ed, Saunders, Philadelphia,: 211-238.
Georgi M E, Han H, Hartrick D W (1980) Spirocerca lupi (Rudolphi, 1809) nodule in the rectum of a dog from Connecticut. Cornell Vet, 70: 43-49.
Hamir A Ν (1986) Esophageal perforation and pyothorax associated with Spirocerca lupi infestation in a dog. Vet Ree, 119:276.
Harmelin A, Perl S, Marcovics A, Orgad U (1991) Spirocerca lupi- Review and Occurrence in Israel. Isr J Vet Med, 46: 69-73.
Harrus S, Harmelin A, Marcovics A, Burk Η (1996) Spirocerca lupi infection in the dog: aberrant migration. J Am Anim Hosp Assoc, 32:125-130.
Ivoghli Β (1977) Fatal aortic aneurysm and rupture caused by Spirocerca lupi in a dog. J Am Vet Med Assoc, 170: 834.
Johnson R C (1992) Canine Spirocercosis and Associated Sarcoma. Comp Cont Educ Pract Vet, 14: 577-580.
Kumar N, Vegad J L, Kolte G Ν (1981) Ossified lesions in canine aortic spirocercosis. Vet Ree, 109:142-143.
Lavy E, Aroch I, Bark H, Markovics A, Aizenberg I, Mazaki-Tovi M, Hagag A, Harrus S (2002) Evaluation of doramectin for the treatment of experimental canine spirocercosis. Vet Parasitol, 109: 65-73.
Lavy E, Harrus S, Mazaki-Tovi M, Bark H, Markovics A, Hagag A, Aizenberg I, Aroch I (2003). Spirocerca lupi in dogs: prophylactic effect of doramectin. Res Vet Sci, 75: 217-222.
Lobetti R G (2000) Survey of the incidence, diagnosis, clinical manifestations and treatment of Spirocerca lupi in South Africa. J S Afr Vet Assoc, 71: 43-46.
Markovics A, Medinski Β (1996) Improved diagnosis of low intensity Spirocerca lupi infection by thr sugar flotation method. J Vet Diagn Investig, 8: 400-401.
Mazaki-Tovi M, Baneth G, Aroch I, Harrus S, Kass Ρ Η, Ben-Ari Τ, Zur G, Aizenberg I, Bark H, Lavy E (2002) Canine spirocercosis: clinical, diagnostic, pathologie, and epidemiologic characteristics. Vet Parasitol, 107: 235-250.
Mylonakis M E, Rallis T, Koutinas A F, Ververidis HN, Fytianou A (2004) A comparison between ethanol-induced chemical ablation and ivermectin plus prednizolone in the treatment of symptomatic esophageal spirocercosis in the dog: A prospective study on 14 natural cases. Vet Parasitol, In press.
Mylonakis Μ E, Koutinas A F, Liapi M V, Saridomichelakis Μ Ν, Rallis Τ S (2001) A comparison of the prevalence of Spirocerca lupi in three groups of dogs with different life and hunting styles. J Helminthol, 75: 359-361.
Schroeder H, Berry W L (1998) Salivary gland necrosis in dogs: a retrospective study of 19 cases. J Sm Anim. Pract, 39:121-125.
Stephens L C, Gleiser C A, Jardine J H (1983) Primary pulmonary fibrosarcoma associated with Spirocerca lupi infection in a dog with hypertrophic pulmonary osteoarthropathy. J Am Anim Hosp Assoc, 182:496-498.
Turk R D (1960) Occurrence of the nematode Spirocerca lupi in unusual locations. J Am Vet Med Assoc, 137: 721-722.
Wandera J G (1976) Further observations on canine spirocercosis in Kenya. Vet Ree, 99: 348-351.