Effect of top-dressed monensin of beef cattle perfermance
---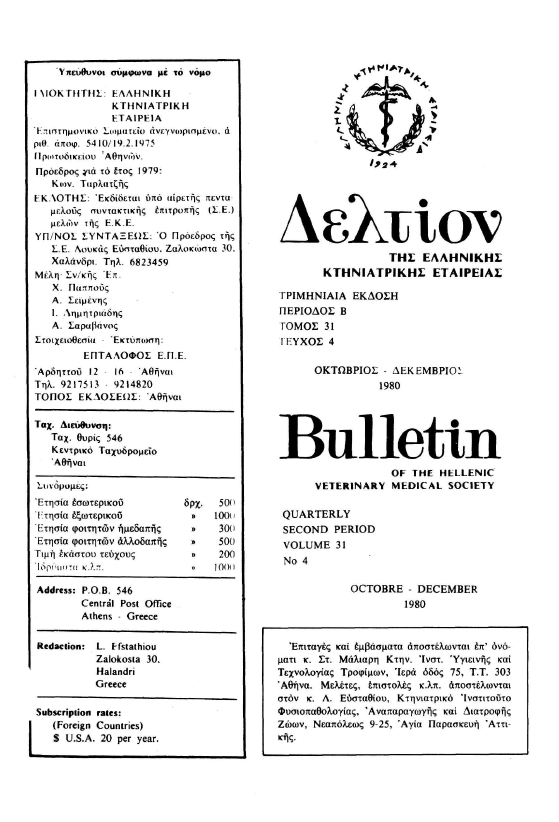 Abstract
In a 16 week experiment, Polish-Friesian bulls were hand fed a monensin mineral mixture top-dressed to the complete feed. Of the 44 bulls involved, 22 were given 125 mg monensin per head daily for the first month and 250 mg thereafter. The remaining bulls received the same mineral mixture without monensin. Bulls fed monensin gained 1,8% more than controls and improved their feed conversion ratio by 11,3%. The average daily feed intake was reduced by 8,9% in the monensin fed bulls as compared to controls.
Article Details
How to Cite

ΚΑΤΣΑΟΥΝΗΣ Ν., ΖΥΓΟΓΙΑΝΝΗΣ Δ., ΚΥΡΙΑΚΗΣ Σ., & ΤΣΑΛΤΑΣ Κ. (2019). Effect of top-dressed monensin of beef cattle perfermance. Journal of the Hellenic Veterinary Medical Society, 31(4), 253–258. https://doi.org/10.12681/jhvms.21465
Authors who publish with this journal agree to the following terms:
· Authors retain copyright and grant the journal right of first publication with the work simultaneously licensed under a Creative Commons Attribution Non-Commercial License that allows others to share the work with an acknowledgement of the work's authorship and initial publication in this journal.
· Authors are able to enter into separate, additional contractual arrangements for the non-exclusive distribution of the journal's published version of the work (e.g. post it to an institutional repository or publish it in a book), with an acknowledgement of its initial publication in this journal.
· Authors are permitted and encouraged to post their work online (preferably in institutional repositories or on their website) prior to and during the submission process, as it can lead to productive exchanges, as well as earlier and greater citation of published work.
Downloads
Download data is not yet available.
References
BROWN Η., CARROLL L. Η., ELISTON W.G., GRUETER H.P., MCASKILL J.W., OLSON R.D., RATHMACHER R.P. (1974): Field evaluation of Monensin for improving feed efficiency in feedlot cattle. Proceedings, Western Section, American Soc. of Anim. Sc. 2 5 : 300-302.
EMBRY L.B., SWAN W.S. (1975): Effects of Monensin on feed lot performance of growing and finishing steers. Lilly trial 306-739-33. Dept. of Animal Science. Agricultural Experimentl Station. South Dakota State University.
EXARCHOS J., CATSAOUNIS N., ZYGOYÌANNIS D., BELIBASAKIS N., KYRIAKIS S. TSALTAS C. (1978): Monensin trial results on beef catle in Greece. European Congress for Improved Beef Productivity. Paris, September 1978.
GRAY Y., BERANGER C. (1977): Utilisation d' un anticoccidien (Monensin) dans laration des Ruminants. Ann. Zootechnie 26 (I): 59-68.
ΚΑΤςΑΟΥΝΗς Ν., ΖΥΓΟΠΑΝΝΗς Δ., ΣΤΑΜΑΤΑΡΗς Κ., ΚΥΡΙΑΚΉς Σ., ΤςΑΛΤΑς Κ. (1979). 'Επίδραση της Μονενσίνης στις αποδόσεις τών παχυνόμενων μοσχαριών. 'Αγροτική 10: 68- 75.
ΚΑΤςΑΟΥΝΗς Ν., ΖΥΓΟΠΑΝΝΗς Δ., ΣΤΑΜΑΤΑΡΗς Κ., ΚΥΡΙΑΚΉς Σ., ΤςΑΛΤΑς Κ. (1979): Επίδραση της Μονενσίνης και του Ζερανόλ στίς αποδόσεις των παχυνόμενων μοσχαριών. 'Αγροτική 12: 88-95.
UTLEY P.R., NEWTON G.L., RITTER R.J., MCCORMICK W.C. (1976): Effects of feeding Monensin in combination with Zeranol and testosterone-estradiol implants for growing and finishing heifers. J. Anim Sci. 42(3): 754-760.
WEICHENTHAL Β.Α., OMARIXK C F . , NEUMAN A.L. (1976): Rumensin plus implants for feedlot cattle. Feed Cattle Day 22/28.