Η αναγνώριση της Αρμένικης γενοκτονίας και η πολιτικοποίηση της
---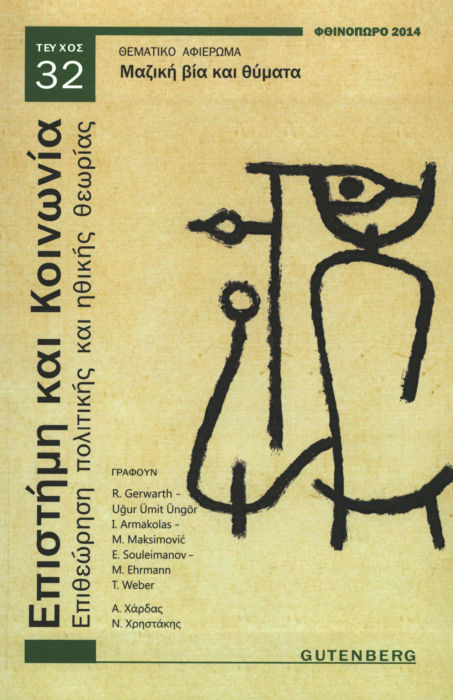 Δημοσιευμένα: Jul 20, 2015
Λεπτομέρειες άρθρου
Πώς να δημιουργήσετε Αναφορές

Souleimanou, E., & Ehrmann, M. (2015). Η αναγνώριση της Αρμένικης γενοκτονίας και η πολιτικοποίηση της. Επιστήμη και Κοινωνία: Επιθεώρηση Πολιτικής και Ηθικής Θεωρίας, 32, 95–120. https://doi.org/10.12681/sas.565
Οι Συγγραφείς που δημοσιεύουν εργασίες τους σε αυτό το περιοδικό συμφωνούν στους παρακάτω όρους:
Οι Συγγραφείς διατηρούν τα Πνευματικά Δικαιώματα και χορηγούν στο περιοδικό το δικαίωμα της πρώτης δημοσίευσης ενώ ταυτόχρονα τα πνευματικά δικαιώματα της εργασίας προστατεύονται σύμφωνα με την άδεια Creative Commons Αναφορά Δημιουργού - Μη Εμπορική Χρήση - Παρόμοια Διανομή 4.0 Διεθνές , που επιτρέπει σε τρίτους - αποδέκτες της άδειας να χρησιμοποιούν την εργασία όχι για εμπορικούς σκοπούς, με την προϋπόθεση της διατήρησης των διατυπώσεων που προβλέπονται στην άδεια σχετικά με την αναφορά στον αρχικό δημιουργό και την αρχική δημοσίευση σε αυτό το περιοδικό και με διανομή τυχόν τροποποιήσεων υπό την ίδια άδεια όπως και το πρωτότυπο.
Οι Συγγραφείς μπορούν να συνάπτουν ξεχωριστές, και πρόσθετες συμβάσεις και συμφωνίες για την μη αποκλειστική διανομή της εργασίας όπως δημοσιεύτηκε στο περιοδικό αυτό (π.χ. κατάθεση σε ένα ακαδημαϊκό καταθετήριο ή δημοσίευση σε ένα βιβλίο), με την προϋπόθεση της αναγνώρισης και την αναφοράς της πρώτης δημοσίευσης σε αυτό το περιοδικό.
Το περιοδικό επιτρέπει και ενθαρρύνει τους Συγγραφείς να καταθέτουν τις εργασίες τους μέσω διαδικτύου (π.χ. σε ένα ακαδημαϊκό καταθετήριο ή στους προσωπικές τους ιστοσελίδες) πριν και μετά από τις διαδικασίες της δημοσίευσης, καθώς αυτό μπορεί να οδηγήσει σε παραγωγική ανταλλαγή ιδεών και σκέψεων καθώς επίσης και σε γρηγορότερη και μεγαλύτερη χρήση και ευρετηρίαση της δημοσιευμένης εργασίας (See The Effect of Open Access).
Λήψεις
Τα δεδομένα λήψης δεν είναι ακόμη διαθέσιμα.